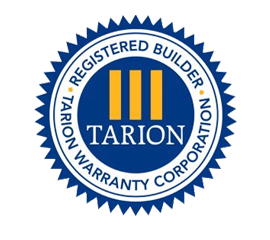 The only mandatory new home warranty program in Canada, and one of only a few such programs in the world, Tarion provides new home buyers with substantial warranty protection.Created as an independent, non-profit corporation, Tarion administers and enforces the Ontario New Home Warranties Plan Act which defines the coverage offered by the program.The Best protected consumers are informed consumers. Before buying a new home, become familiar with the protection.
Warranty Outline
Since the Warranty Program's coverage was enhanced in 1990, new home buyers receive:
Deposit protection up to $40,000.00
Delayed closing protection.
Delayed occupancy protection for condominium buyers.
Protection against substitution of key elements in both single family homes and condominium projects.
One year builder's warranty on workmanship, materials and Ontario Building Code violations.
Two-year "owner train" builder's warranty covering the electrical, plumbing and heating delivery and distribution systems.
Two-year builder's warranty against water penetrating the basement through the foundation. In condominiums this protection includes all below ground structures such as parking garages.
Two-year builder's warranty against water penetrating the building envelope.
Seven-year major structural defect protection.
For all of the details regarding the Tarion warranty program, please visit the Tarion website.